Army Slang
Soldier in the field have some very colorful language and some have stood the passage of time, below are those I have found that may be of particular interest to you. Unfortunately some are un-repeatable.
---
Table

Absolutely jungle:
Mad, not in control of his/her actions.
Base Rat:
A soldier perpetually at the base, therefore maintaining his comfort and safety. Also known as a base wallah.
Batting:
Batman, he was assigned to a commissioned officer, acting as his "runner" to convey orders from the officer. Maintaining the officer's personal equipment. Under combat conditions acting as the officer's bodyguard and other miscellaneous tasks the officer does not have time to do.
Biscuits:
Three 2ft 6in bedding squares for one man in a barracks.
Blighty:
Home, England. From the Hindustani Bilayati, foreign land. This was also the name of a weekly magazine for young men, sold in London around 1939 to the end of 1958.
Brew - Brew up:
Tea, or to make a pot of tea.
Brylcreem Boy's:
Pronounced brill-cream. A hair grooming jell produced in 1928, and said to be used by members of the R.A.F. to slick back their hair.
Buckshee:
Buckshee is of military origins from the Persian word Baksheesh. A small amount of money which was given as a tip, for work or services.
Bully:
Bully beef, caned corned beef.
Burgoo:
Porridge. From the Hindustani word burghul.
Butt:
Last inch or so of a cigarette often requested by another man when he has no cigarettes of his own.
Char:
Tea. 'Chae' used by the Indian Army.
Chit or Chitty:
A note or receipt. To be excused duties. Chit, from the Hindustani word cittha.
Civvies:
Civilian clothing.
Civvy Street:
Civilian life.
Clobber:
Clothing, uniform or to hit out at someone or something.
Croaking it:
About to die.
Croaked it:
Died.
Cushy:
Easy job.
Daisy-roots:
Boots.
Deco:
Decoration - Slang for medal.
Dekko:
To have a look at.
Doollally or Doollally tap:
Affectionate term used to describe anyone who is showing signs of mental fatigue.
Ear bashing:
To give someone or receive a verbal warning.
Fags:
Cigarettes.
Goolie's:
Testicle's.
Gorblimey:
"God blind me". A cockney expression for being surprised, perhaps astonishment.
Graft:
Very hard work.
Jack Jones:
Being on your own, stranded.
Johnny Gurkha:
Gurkha soldier.
Jungle:
Mad, not in control of his/her actions.
Kip:
Have a lengthy sleep.
Knee Drill:
Church parade.
Manky:
Filthy dirty.
Micky "Take the micky":
To poke fun at someone.
Nap:
Have a quick or short sleep.
Number nine Sick:
The British army's laxative pill was No.9.
Number 10 or 10:
Intelligence Officer. Soldiers referance to the Intelligence Officer (1 representing I and 0 representing the letter O).
Nugget:
Affectionate term when calling someone an idiot.
Nuts:
A mans testicle's.
Odds and sods:
Miscellaneous details or items.
Old Sweats:
Long serving soldiers in the theatre of war.
Packet:
Wound. To "cop a packet" was to be wounded in action, often fatally.
Penny dropped:
An individual has understood what was happening or what has been said.
Repat/s:
Repatriation, soldier or troops going home.
Pukka:
Genuine, as in everything is fine.
Sam Browne:
The Sam Browne belt is a wide belt, usually leather, which is supported by a strap going diagonally over the right shoulder.
Skof:
Food, can also mean to eat in a hurry.
Spit/s:
Spitfire aeroplane/s.
Spud - Spud bashing:
Potato. To peel potatos.
Stag:
Sentry duty.
Stop one:
To be hit by a bullet or ordnance fragment.
Sweet fanny adams:
Nothing at all, as in doing nothing at all.
Swinging the lead:
Malingering, shirking duty.
Taff:
A Welsh Soldier.
Tape/s:
Chevron or stripes worn on the uniform sleeves of a promoted soldier.
Throw one up:
To salute.
Ticket home:
Official discharge from the army, especially for medical reasons, wounded.
Tiffin:
Lunch or snack.
Tommy:
"Tommy" believed to derive from the name Tommy Atkins, used to describe a typical British soldier, possibly originated in a War Office publication of 1815 which showed how a 'Soldier's Book' should be filled in, and the name Pte Thomas Atkins was the example name used.
Windy - Wind-Up:
Afraid or nervous. A person was said to have the wind-up.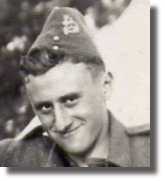 Unknown veteran
ref: s_1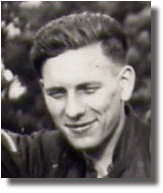 Unknown veteran
ref: s_2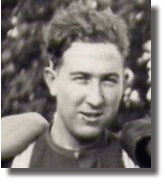 Unknown veteran
ref: s_3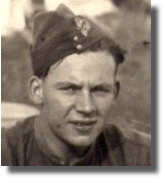 Unknown veteran
ref: s_4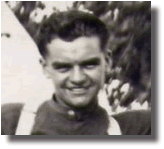 Unknown veteran
ref: s_5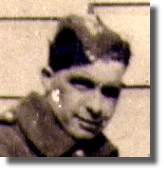 Unknown veteran
ref: s_6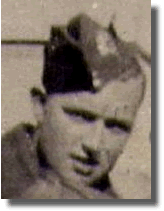 Unknown veteran
ref: s_7