Regimental Cenotaph Berkshire
The Regimental Cenotaph designed by Sir Edwin Lutyens, R.A. is housed inside the walls of Brock Barracks, Oxford Road, Reading.

After the Second World War ended a new inscription was engraved on the south side of the Cenotaph. Which reads:-

Re-dedicated, to the Memory of the 9 Officers and 974 Other Ranks of The Regiment who fell in The Second World War, 1939-1945.

A niche was designed into the south side, and in 1949 a stone inscribed casket containing the names of those who fell in action placed inside and sealed.

The 17ft 19in portland stone monument which once stood alongside the keep, now stands in its own grounds and is the focal point of the veterans reunions to this today, and rightly so.
Remember them.....
Image 1 - The Regimental Cenotaph. click to view
Image 2 - Shows far left - L/Cpl. William Joseph Lowe and far right Pte. Reginald Herbert Tully with friends after the ceremony. click to view
Image 3 - Shows left - Pte. Reginald Herbert Tully and CSM Theodore Martin Shave. Note the ceremonial regimental band behind. click to view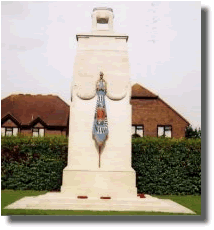 Image No.1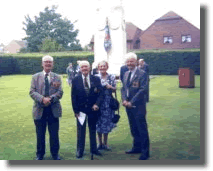 Image No.2

Image No.3