Remember Your Poppy!
---
†
They shall grow not old, as we that are left grow old;
Age shall not weary them, nor the years condemn.

At the going down of the sun and in the morning
We will remember them.
†
When Did WWI End:
Leaders from both sides attended a meeting in Ferdinand Foch's railway carriage headquarters at Compiegne and an armistice was signed at 6am which came into force five hours later: The guns of Europe fell silent on 11th November 1918 at 11.00am.

Two Minute Silence:
A letter published in a London Newspaper on 08 May 1919 by Edward George Honey which proposed a respectful silence to remember those who had fallen during WWI. This article was brought to the attention of King George V. On 07 November 1919, King George V issued a proclamation calling for a two minute silence to be observed. The whole of the Country fell silent for the first time and so began a tradition that lasts to this day.

Why A Poppy?:
The reason poppies are of significance is because they were the flowers that grew on the battle fields after World War I ended and have been worn for many years to display a mark of respect in remembrance of those who died for their country. The Poppy is also a recognised international symbol of Remembrance.

Where Should The Poppy Be Worn?:
The Poppy should always be worn on the left breast, close to the heart and is generally worn throughout the whole of the Remembrance period and removed at the end of the day, many people now place their Poppy at the base of the cenotaph at the end of the Remembrance Day Ceremony to further mark their respect to veterans.

Distribution And Sale Of Poppies:
Distribution and the sale of Poppies and Wreaths is carried out by volunteers from all nations. The money collected after expenses are deducted for the cost of materials is placed in a trust to be used in the benevolent support of veterans and their dependants, today and tomorrow.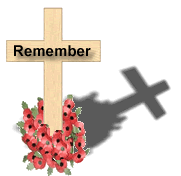 IN REMEMBERANCE
World Wars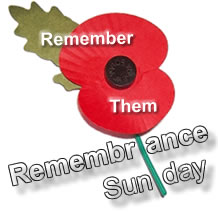 Should you wish to
give: - please visit the
official

The Royal British Legion website