Cpt. WILLIAM PATRICK BARRY
Army Service No. 135100
Portfolio
Pre war occupation:

Minister of Religion (Congregational Church).
Enlisted:

At Royal Army Chaplains Dept, Chester
05 December 1940 Age 29.
Regiments:

U Corps 13th Sherwood Foresters.
38th British General Hospital
Headquarter Company
2nd Battalion Royal Berkshire Regiment.
Commanders:

L/Col. S. H Atkins
Maj. R. G. Dickson
L/Col. H. du Pre Finch
Maj. R. L.Twidle
Col. Lionel John Lindsay Hill
Minister:

1940 William Barry was the Minister of Hillsborough Congregational Church in Sheffield.
Chaplin To The Forces:

Group photo of 2nd Battalion pictures the officers at Poonamallee Nr. Madras.

Cpt. Barry No.11, was responsible for ministering to all Companies in the battalion.

[View Image]
Dedication:
Col. John Hill Wrote of Cpt. Barry in his book, Slim's Burma Boys......

"Fear,that great demoraliser,had to be conquered. We needed beliefs to get us through our trials in battle. Belief in our cause,in our leaders,in our training and tactical efficiency, belief in our way of life and in our ability to beat the Japanese carried us through. From Christmas Day 1944 our regimental chaplain's personal example gave us reassurance that Christian beliefs mattered. At every engagement and afterwards, Padre Barry was to be seen comforting those who were wounded and ministering to the dying. A small,slightly built man , moving about unarmed, he became a symbol of religious stability for all to see. Without his presence, even those who held strong religious beliefs would have found life harder to bear when shot and shell were taking their toll. When forming up for attacks, with all the uncertainties around us, he was a living reminder that we were Christian soldiers.... Casualties came, not from long-distance air bombardment, nor from gun barrages, but from direct small-arms fire. Here, out in the open, Padre Barry talked and encouraged us, 'pray for forgiveness and help in all you do '. The Padre remained unprotected at his own risk, yet was always up with our forward elements. His faith in God was apparent wherever he went."

...... "At Maymo, after the long days and nights of attrition and bloodshed at Mandalay, where we had our second brief respite, we had time to look back and realise that Padre Barry was right. He had advised us to ' Trust in God and let the devil take the hindmost'.
Sheffield Telegraph 09 January 1945:

Padre Was Burma Hero
HELPED WOUNDED UNDER FIRE

...THE REV. W. P. BARRY, formerly Minister of Hillsborough Congregational Church, Sheffield, and now a regimental Padre, was one of the heroes of the five days' fierce fighting which ended in the capture of Kanbalu, in Central Burma.
...British troops fought in a tangle of matted bamboo clumps against fanatical defence by the Japanese. Machine-guns were fired at a range of rarely more than 20 yards and there was continual hand-to-hand fighting.

No Protection
..."during one period of shelling," writes an army observer, "I saw the M.O. and the Padre calmly administering blood plasma to an injured man. They had been carrying on this life-saving work without protection for while the shells were scattering hundreds of deadly fragments all round the position."

...Mr. Barry, who is the son of Rev. H. R. Barry, a Methodist Minister of Preston, took up the Ministry Of Hillsborough Congregational Church in 1936 after it had vacant for two years. He succeeded the Rev. Harold Thomas.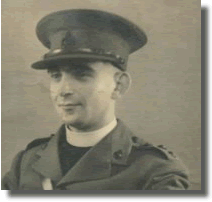 Cpt. William Barry 1941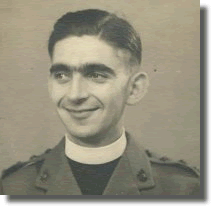 Cpt. William Barry 1941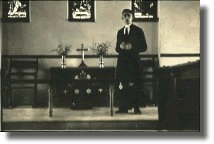 Minister William Barry 1940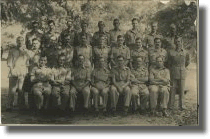 Officers Of The 2nd Battalion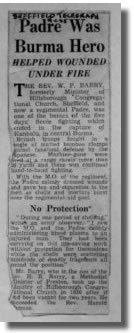 Article in Sheffield Gazette