Pte. Kenneth Victor McLaren
Army Service No. 14709780
Portfolio

Pre-war Occupation:
Trailer Attendant.
Enlisted:
03 February 1944.
Regiments:
General Service Corps 03 Feb 1944-14 Jun 1944
Royal West Kent's 15 Jun 1944-25Feb1946
Royal Berkshire Regiment 26 Feb 1946-27 Dec 1947
Army Form W5218:
On the reverse of Army Form W5218, Pte. McLaren had written a poem - "Although I've travelled, far and Wide.
I'd sooner be by, my own fireside

K. McLaren
4th Oct. 47.
Demobbed:
27 August 1947.
Testimonial Army Form X 202/A:
Pte. McLaren has been with this Battalion for over 18 months and during that time has proved himself to be a good driver of all types of vehicles from jeeps to three ton vehicles. He has a good knowledge of maintenance and is also capable of keeping book-records. Despite long hours and hard work he always remains cheerful, taking every situation with determination.

2nd Bn. The Royal Berkshire Regiment. Mingaladon.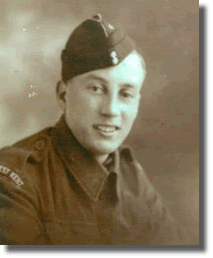 Pte. McLaren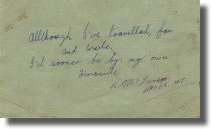 Army Form W5218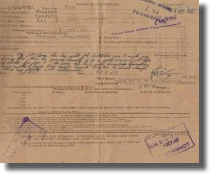 Army Form X 202/A