Lt. William Leonard Mildenhall
Army Service No. 324498
Portfolio
School:
Attended the Thames Valley Grammar School in Twickenham where a commutative Memorial Plaque bears his name. See below.
Occupation:
Worked for the Canadian army as a messenger in Bushey Park Teddington before joining up for the war
Regiments:
The Queens Own Royal West Kent Regiment.
2nd Battalion Royal Berkshire Regiment.
Training:
Attended Officer Training School Bangalore.
Pictured right - 'B' Company 1943-1944.
Promotions:
Cadet to Second Lieutenant: 16 April 1944
Lieutenant: Date U/K
Platform Ticket:
Issued to my mother (William's sister), the last time she saw him as he departed for India.
Cable Wireless:
From William, apparently sent on 20 January 1945 (William died 22 January 1945); received by his mother 23rd January 1945.

The message simply reads....

WELL

GOOD LUCK
KEEP SMILING
Killed In Action:
Kabwet Hill 15R - 22 January 1945 aged 19.
Letter Of Sympathy:
Dated 10 February 1947, from Brig Gen S.G. Frances (father of Major James Lowry Francis 95637, the man William was searching for when he died.) This letter meant a lot to my grandfather.
Letter Of Sympathy:

Dear Mr Mildenhall

I have only recently been able to obtain your address as I should have written before. I have heard that when my son Maj. J.L. Francis was killed in Burma on 21 Jan 1945 your son who was with the same company took out a patrol to try and find him and was also killed.

My wife and I have wanted to express to you our deepest sympathy and our appreciation of the gallant action of your son in going out at once to search for his missing company commander.

I gather that the Japs were hidden in a strong position and that our boys were both killed at very short range. What a wicked waste it all has been. But we have the satisfaction of knowing that our boys died doing their duty.

They had a glorious company while it lasted and we have our pleasant memories of them.

Yours very sincerely

S.G. Francis
Brig Gen
Wooden Field Cross:
Photo of Lens wooden cross, I think from the cemetery in Mandalay.

Which reads....

Lieut. W.L. Mildenhall
R.W.K.
22-1-45
Thames Valley School Memorial Plaque:

THE WORLD WAR
1939.....1945
OUR
OLD SCHOLARS WHO WHEN
SERVING THEIR COUNTRY
MADE THE SUPREME
SACRIFICE

J.Adams - W.Foskett - H.Payne
W.Alexander - G.Frith - P.Roach
G.Bayton - S.Gallop - W.Sadgrove
J.Bayton - J.Hilton - C.Sibley
T.Beard - H.Hughes - C.A.Smith
E.J.Bell - A.Humphery - F.Smith
A.Bick - A.Ingarfield - R.Smith
E.Bowerman - K.Mears - R.Strong
F.Bushnell - L.Mildenhall - A.Taylor
R.Clarke - F.B.Miles - A.Watson
L.Devonshire - P.Mills - J.Webb
B.Edwards - E.Morris - J.Welsh
D.England - C.Osborne - J.C.Wood
A.Feast - B.Packer - C.Wooldridge
R.Finnis - C.Page - J.Wright

WE WILL REMEMBER THEM
FOOTNOTE:
Below is a dedication submitted by William's niece Mrs Anne Hewes on behalf of her mother Marjorie as Marjorie is unable to operate a PC.

Len wanted to serve in India as he believed both his grandfather and grandfather's brother had served there.

I haven't yet been able to establish if this was true. His grandfather, William Mildenhall was certainly in the army between 1869 and 1889 and served in the Royal Horse Artillery. I am at present unable to ascertain if his great uncle, James Mildenhall was actually in the army but I know he was some sort of servant to Sir Bartle Frere and was still with him at his death. Sir Bartle Frere served in India and South Africa and James was with him in South Africa during the Zulu wars.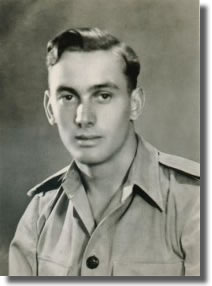 Lt. William Leonard Mildenhall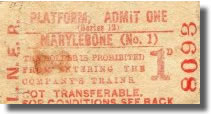 Platform Ticket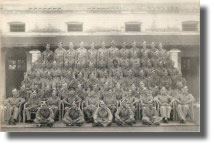 Bangalore 1943-1944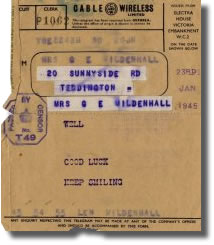 Cable Wireless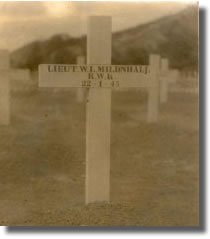 Wooden Cross

Letter Of Sympathy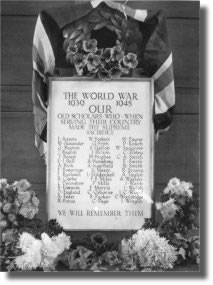 Thames Valley Grammar School
Commemorative Plaque