C.S.M. PERCIVAL THOMAS RYLAND
Army Service No. 5331549
Portfolio
Enlisted:
On the 20 December 1923 at Worcester.
Regiment:
2nd Battalion Royal Berkshire.
Prayer Book:
Private Ryland received his Soldier's Prayer Book, stamped Royal Berkshire Regt. Orderly Room Depot Royal Berkshire Regiment on the 26 December 1923 which houses, "A Soldiers Prayer", which reads.....
ALMIGHTY and Everlasting God, by Whose grace Thy servants are enabled to fight the good fight of faith and ever prove victorious : We humbly beseech Thee so to inspire us, that we may yield our hearts to Thine obedience and exercise our wills on Thy behalf. Help us to think wisely : to speak rightly : to resolve bravely : to act kindly : to live purely. Bless us in body and in soul, and make us a blessing to comrades. Whether at home or abroad may we ever seek the extension of Thy Presence save us from sinning : support us in life, and comfort us in death. O Lord our God accept this prayer for Jesus Christ's Sake. Amen.
Army Form C-309:
Achieved the Army Certificate Of Education in January 1928 at Naini Tal in India for English, Mathematics and Map reading.
Promotions:
Lance Corporal: Prior to January 1928
Company Sergeant Major: Around July 1943 and 1945

O.T.S.:
Attended Officer Training School at Mhow in India from the 13 September 1943 - 23 October 1943, qualifying as a Weapons Training Officer.
STATEMENT OF CHARACTER of No. 5331549

Rank: C.S.M.
Name: RYLAND, P., Age and Service Group 12c has served under my command from 20 July 1943 to 8 July 1945. His character whilst at this School has been Exemplary.

Testimonial: A very good type with plenty of personality. An excellent example to others.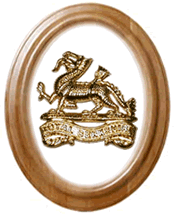 Image required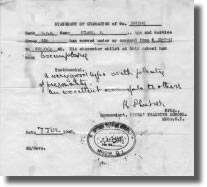 Statement Of Character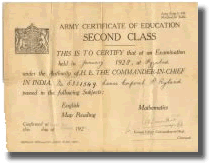 Army Form C-309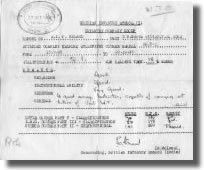 Officer Training School