---
Dear Vic,

Thank you for the substantial amount of material relating to the 2nd Battalion Royal Berkshire Regiment in Burma during the 2nd World War, and the information about your father, that you have provided to the Rifles Berkshire and Wiltshire Museum. It is an exciting and comprehensive collection. We have added it to the material we have from Lieutenant Colonel John Hill. We now have a detailed history of service in Burma and the conduct of operations against the Japanese. This is exactly the sort of material that a regimental museum is keen to gather as it tells the story of the soldiers of the Regiment.

All the material you donated has been examined and added to the Collection, and in due course much of it will appear on our web site for everyone to see.

Our volunteer researchers are aware that they may contact you in the event of an enquiry about this battalion.

Thank you for gathering so much unique material and for giving it to the Museum.

Yours Truly

Simon

SG Cook
Secretary
Please Note:
All images, documents and personal accounts found throughout this website belong to veterans, their relatives and patrons, who are kindly allowing you to view them. Please respect their generosity by leaving them where they are. Thank you.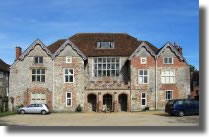 The Wardrobe - Holding in trust, artifacts, archives and records of the Royal Berkshire Regiments.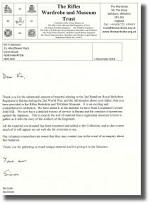 Thank You!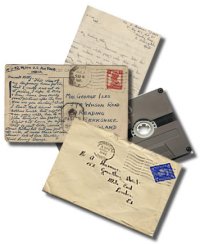 Veterans accounts are discovered
in the most unlikeliest of places.

Please cherish them!