Pte. Eric Blatherwick
Army Service No. 4978525
Portfolio
Service:
Private Eric Blatherwick enlisted into the 2nd Battalion The Royal Berkshire Regiment, later to serve in India and Burma. Pte. Blatherwick entered the theatre of war as part of the 14th Army's famous 19th Indian (Dagger) Division in 1944.

Prior to 31 December 1944 Pte. Eric Blatherwick came under heavy fire, as recorded by L/Cpl. William Lowe and succumbed to wounds received as recorded in a letter that all families dread as sent to Eric's wife, Mrs. Esther Blatherwick.
4978525 Pte. BLATHERWICK, E.
Royal Berkshire Regiment.

It is with regret I have to inform you that a delayed report has been received to the effect that your husband was Wounded in Action on a date not yet known and placed on Dangerously Ill list on the 31st December, 1944 suffering from penetrating wounds of the head, and subsequently died the result of his Wounds on 1st January, 1945. An official Death notification is enclosed for your retention.
NOTIFICATION OF DEATH.
CERTIFIED that according to a telegraphic commutation received in this Department that No. 4978525 Private Eric Blatherwick The Royal Berkshire Regiment died of wounds in Burma on the First day of January 1945 while serving in the Indian Theatre of War.

Dated this 1 day of February 1945
THE WAR OFFICE (A.G.13)
32 Grosvenor Gardens,
London, S.W.1.
Tel: VICtoria 1244.

Any further communication on this subject should be addressed to:-

The Director,
Graves Registration and Enquiries, as Opposite, and the following number quoted:-
INDIA 823-7E/AG.13
-------------------
19th October, 1945.

Dear Madam,
Referring to the previous notification sent to you, a later report has been received which states that your husband, 4978525, Private E. Blatherwick, 2nd Bn, Royal Berkshire Regt, is now buried in Imphal Military Cemetery No. 2, India, Plot 6, Row K, Grave No. 19, having been removed from the temporary cemetery where he was previously buried, in which it is found that it would be very difficult to arrange for the proper care of the grave.

Mrs. E.A. Blatherwick.
Effects Form 214
THE WAR OFFICE, EFFECTS BRANCH,
Blue Coat School,
Church Road,
LIVERPOOL, 15

17 MAY 1945

Sir/Madam,
I am directed to enclose a draft in your favour for £58 : 6 : 5d., being the amount due from Army Funds to the estate of the late N. 4978525 Pte E. Blatherwick Royal Berkshire Regiment made up as follows:-

Balance of pay and allowances: £26 7s 11d.
Post War Credit: £27 8s 6d.
cash belonging to him: £4 10s 0d.

The Post War Credit, which it has been decided to release specially for payment in the case of deceased soldiers, is assessed at 6d. a day for the period 1st January 1942, (or date of enlistment, if later) to date of death.
Payment is made to you as the sole legatee of the Will of the late soldieer., copy of which is enclosed herein

Iam,
.....Sir/Madam,
..........Your obedient Servant,
..................T G Sinclair
Inboung Military Cemetery Wooden Cross:
Which Reads:-
4978525 PTE. E. BLATHERWICK
R/BERKS
1.1.45.
Plaque - Imphal Military Cemetery N.2:
Which Reads:
4978525 PRIVATE
E. BLATHERWICK
THE ROYAL BERKSHIRE REGT.
1ST JANUARY 1945 AGE 26

LOVES LAST GIFT,
REMEMBRANCE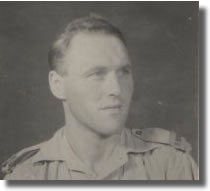 Pte. Eric Blatherwick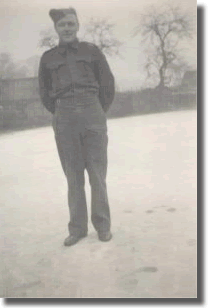 Pte. Eric Blatherwick Jan 1940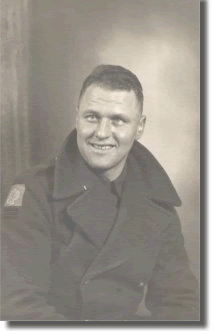 Pte. Eric Blatherwick Jan 1941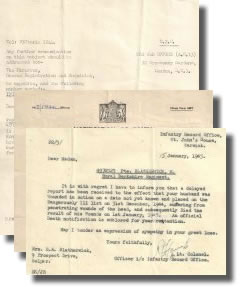 Pte. Eric Blatherwick KIA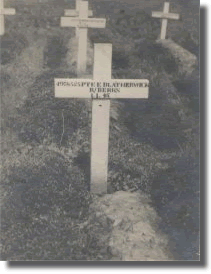 Pte. Eric Blatherwick
TEMPORARY
Inboung Military Cemetery
Burma Row D, Grave No.8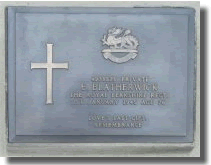 Pte. Eric Blatherwick
Imphal Military Cemetery N.2, India
Plot 6, Row K, Grave No.19.