Return To Veterans Accounts Index
Trouble Ahead
Extracts from an unpublished book
by
L/Cpl. William Joseph Lowe 14640525
.....Next day moving by transport 70 miles. This was the last we saw of the transport for quite awhile. Marching anything from 7 to 25 miles, and stopping where water could be found. After three weeks of marching, we again received transport. Covering 50 miles we took the lead 'Major XXXX' in command of Company. Captain Thomas in command of jeep patrol. PL Comdrs being Lts. XXXX, XXXX and XXXX. First day covering 20 miles patrolling in front of the Company. One jeep driver reporting being shot at while getting water, but Officers only laughed at him.

.....Next morning we paid dearly, for after covering a few miles patrol bumped into trouble. First jeep coming into a small clearing, second one hit mine killing Ptes. XXXX, XXXX, and Cpl XXXX losing his leg. The others slightly wounded. Others hearing mine go off, quickly de-bussed, other jeeps soon came under heavy fire. Pte XXXX being shot through the neck, the rest getting back safely to cover. Major XXXX then called a 'O' Group. It was decided to patrol to both flanks. First one to the left under Lt. XXXX getting to the rear of Japs okay. The patrolled road for one and a half miles seeing a few more Japs. Patrol then returned by same route. Japs had set an ambush for them, fire coming from all sides, killing Pte. XXXX and wounding Ptes. XXXX, XXXX and XXXX. Pte. XXXX managed to get away with others. On the right patrol under Lt. XXXX, they soon hit trouble, Pte. XXXX and Lt. XXXX being killed. Sgt XXXX wounded. Sgt XXXX bringing the patrol back. On both patrols returning, artillery fire was put down on Jap positions. First round falling 18% out, owing to very poor maps.

.....The F.O.O. got onto the target with his third shot, barrage was then put down on Japs. About 5 o'clock jeep was towed back from clearing. The Padre came down and buried Pte. XXXX, XXXX and XXXX. At about 6 o'clock we went back into a BN perimeter where we had a little food and drink. Later scraped a hole and got down to sleep. At about 11 o'clock the Japs paid us a visit, shouting and firing rifles. L.M.G.S. and Mortars. We had orders not to fire at night. It broke our hearts to see the Japs go without having a go at them.

.....Next morning after Jap positions had been reported clear, Battalion moved forward 'B' Company leading, 'C' Company well in the rear. First we found Lt. XXXX and Pte. XXXX, and Pte. XXXX wounded, lying at the side of the track, where he had laid all night. Pte. XXXX, XXXX and XXXX where they had been shot, and some of their mates buried them. Battalion moved on steady for two days having learnt their lesson of dashing headlong into trouble. Four miles North of Kambalu 'B' Company bumped into the Japs. The Japs were in very carefully selected positions. Lt. XXXX was killed and Pte. XXXX wounded. 3" mortar fire was called for to cover S.B. L/cpl XXXX and L/cpl XXXX while fetching in Pte. XXXX. The Japs realised what was happening and sprayed the area with M.M.G. fire. S.B. got him back safely, dying a few hours later. Japs were very quick with their retaliations of mortar fire and very deadly, dropping on the H.Q., which was very poorly placed, being next to the mortars. Receiving direct hits the M.O. getting wounded while dressing others.

.....Last few rounds in 'C' Company's area, wounded one man. Up to this time, we had just lay on the ground brewing char. After shelling we immediately started to dig in, working like made with picks, shovels and hand tools. We got down about 3 feet and thought ourselves safe, but for the next three days we still suffered casualties. The Japs were sending over tree bursts and our trenches were of little use without head cover. Here we lost 3 killed and 15 wounded, and one with shell shock. Pte. Blatherwick was killed while out of his trench helping others who had been wounded. S.B. did some good work here. On the fourth night here an F.F.O. went out with a covering party and small W.T. up to the Jap positions, where the mortar fire was coming from. The Japs had just started to shell, thus giving away their position, O.P. quickly brought down fire on the Japs. 2 shots finding their mark, a barrage was then put over knocking out the gun and crew, and then returned having done its job. After two days 'C' Company were given the task of a right flanker under Capt XXXX, Major XXXX having taken over 'A' Company. Air strike had been called for one Pte, and myself being sent out to a position 500 forward of our troops to put up a yellow umbrella to mark the position of the forward troops.
P 1 :: P 2 :: P 3 :: P 4 :: P 5 :: P 6 :: P 7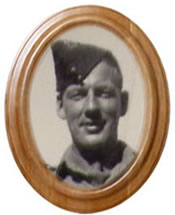 L/Cpl. William Joseph Lowe