Return To Veterans Accounts Index
Postcard Home
Sgt. Joseph George Iles 5345643
Dated 14 July 1942
H.Q. 10th U.S. Air Force India
View card
Dearest Kitty,
.......This is a view of my temporary home for the next 2 weeks, does not do it justice, I hope to take & bring home some really good pictures after the war.

.......How are you darling? Well I trust. Had dinner with Arthur Smith last night & am going with him to a film tonight. Am feeling bright & at home in a job that is just like "civvie" street. Rather hot but can put up with it under these circumstances.

.......Lots of love Darling.
.......Your loving George.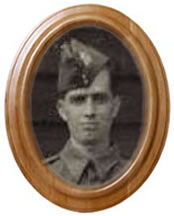 Sgt. Joseph George Iles