Return To Veterans Accounts Index
IMPRESSION OF OUR VISIT TO JAPAN OCTOBER 2014
by
Sgt. Roy Welland 5337618 & Ruth Smith
.....We have known Akiko for several years, first meeting her at the Kohima Reunions in York. Then she had asked if Roy would forgive her father for fighting against him. Roy said then that if he could meet her father that he would talk to him.

.....So when Akiko asked if we would like to visit Japan in October 2014, with some of the members of the Burma Campaign Society, and to meet her father, Roy was quite interested. When we decided to go, we had no preconceived ideas of what to expect. Roy was at the battle of Kohima, facing her father on the Japanese side. He had for some time thought that now the war in Burma was seventy years ago, it was more than time for reconciliation. I was the widow of a Chindit, so was just as interested.
Bob Cook from the Kohima Museum in York, and Celia Grover, the daughter in law of General Grover from the Burma Campaign, were also part of our group.

.....Akiko arranged an itinerary for us, so that we could also meet other Japanese veterans, and other people who would like to meet Roy. She did the booking for the flights and hotels, and also arranged that if possible we could be upgraded to Business Class, which we were lucky to have.

.....We travelled between 20 and 28th October 2014, and had a varied programme of visits, in Tokyo, and also went on the bullet train to Shonai. We were very well looked after, including a wheelchair for Roy when the distance was too far for him to walk. We met many people, several who escorted us everywhere we went - in particular two Japanese ladies and Yoshi, who lives in the UK. He met us at London Heathrow and travelled with us and then saw us of at Tokyo Haneda airport when we came home. Akiko had arranged for us to be upgraded to Business class if there were spare seats, and we were lucky both journeys.

.....We met Akiko's father, and also two other Veterans. The meetings were very emotional, with holding each others hands, tears and hugging each other, and talking through an interpreter. We had an Indian film crew travelling with us, and they interviewed one of the Veterans and Roy at length, beside a lake near a Shrine. Roy had several interviews with Japanese newspapers during our stay, and also before and after. Either by email, or one journalist came to visit us both times.

.....We had a visit to the Commonwealth War Graves Commission cemetery at Hodogaya, outside Tokyo, and laid wreaths. Roy would have liked to see if there were any Royal Berkshire Regiment graves, but we had a full schedule.

.....We took part in ceremonies in several shrines, and were given refreshments in some of them. This was a privilege, as normally people are not allowed in parts of some shrines. Outside one of them General Sato was commemorated.

.....We visited the British Embassy, and met Captain Suzuki of the Parachute Regiment, who was seconded to the Embassy and who would be returning to the Parachute Regiment's base in Colchester, where we live. We were also invited to the Ministry of Foreign Affairs.

.....We had lunch one day at a silk Museum, and saw World War two memorabilia at another Museum.

.....At Shonai we had a very buy time, staying for only one night. The Hotel was a Japanese style one. We had to remove our shoes and put on the mule type shoes provided, and Roy had the wheels of his walker cleaned before we went in. The beds were Japanese, on the floor. But we were made very welcome, and there was a beautiful Japanese garden.

.....We met up with many officials there, including at a large Reception and meal. Shonai is in a huge valley surrounded by hills, and we went up to a shrine on Mount Hagura.

.....We met up with new people in a variety of venues, and learnt a lot about Japan and its customs in the war and modern times. . It is such a clean and tidy place, we saw no litter anywhere. We thoroughly enjoyed our visit, although it was very busy, and tiring, especially for Roy with all his interviews.
ITINERARY:

20th October 2014:
Saw us being met at London Heathrow by Yoshi, and were lucky to be upgraded to fly business class to Tokyo Haneda airport. From then until we left Tokyo Haneda Airport we were looked after and entertained by many Japanese people and Roy was able to use a wheelchair if it was too far for him to walk. Roy was interviewed by newspapers and filmed by an Indian film crew who we had met before.

Tuesday 21st:
We arrived in Tokyo Haneda airport, and was greeted by Akiko, and took the airport shuttle bus to Tokyo rail station, and a taxi to our hotel. We settled in and then met up with the other two British members of our group - Bob Cook from the Kohima Museum in York,and Celia Grover, daughter in law of General Grover from the Burma Campaign, and we all went out for a meal.

Wednesday 22nd:
We all went to the Commonwealth War Grave cemetery at Hodogaya, outside Tokyo, where there are graves of British, ANZAC and Canadian. Servicemen. One of the Tokyo Branch, Royal British Legion were with us. After lunch we visited Akiko's father in the Home in Kugayama where he lives, and were well looked after by the staff there, and Roy was presented with gifts made by those who lived there.

Thursday 23rd:
We stopped off at the big department store at Tokyo station to have a look, and had the traditional green tea, made from the leaves before they were dried, which looks and tastes a lot different from the usual green tea. Whenever we were at various functions, we were given the Japanese green tea. We went to visit the Imperial Palace, which was a long walk, and it started to rain heavily, so we did not continue.
Our next port of call was the British Embassy. The Ambassador was not there, but we had English afternoon tea with Capt. Suzuki, who was seconded there from the Parachute Regiment, and would be returning in due course to their base in Colchester, where we live. Then we went to the Ministry of Foreign Affairs, where we had dialogue. In the evening Bob went out with the other men who we had met, and Akiko, Celia and us had a sushi meal.

Friday 24th:
We visited Yasukuni Jinja Shrine. Roy met up with a Japanese Veteran, with whom he was interviewed after lunch. We had a ceremony at the Shrine conducted by the (Shinto?) Priest, which included washing hands and mouth, and laying of branches inside the rail in the shrine. After a buffet lunch, we visited a Museum.

Saturday 25th:
We caught taxis at 5.10am to Tokyo station for the 6.10am Bullet train. We could feel very little motion, although the one we were on stopped at several stations, so we did not attain high speeds. We passed through quite a few tunnels, and over rivers, and for a while had the sea on our left. We passed through villages and towns,. The architecture was interesting, plenty of rice paddy fields, and allotments in some villages. We had to change trains to Amaruma (for Shonai).where we arrived four and a half hours after leaving Tokyo. .The hotel was near the railway station, and was a Japanese style one. We had to take off our shoes and put on the slippers provided, and Roy had the wheels of his walker cleaned. (We found the Japanese streets and everywhere very clean, not like some places in the UK) The bedrooms were Japanese style, with the bed on the floor and cushions on the floor nest to a low table. But there were two armchairs for us to sit in. After settling in, we went to see part of a prize giving at the Tohoku Koueki Bunka University. Our next stop was the Buddhist Jukeiji Temple Shrine and cemetery. General Sato who had been in charge of the Burma Campaign was buried there. There we met up with another Japanese Veteran. Then we all went to a Reception and meal at Akusan Venue and met up with many officials. Roy was still being interviewed by newspapers etc.

Sunday 26th:
We took part in a traditional tea ceremony, where the english members of our group where able to sit on chairs, but everyone else had to sit on the floor as was usual
Then went to a silk museum, where we had lunch before looking round the Museum. It was a Japanese lunch, in beautiful lacquered boxes. Then a visit to another Shrine on the Mount Hagura and we took part in the ceremony after having tea. Usually visitors are not allowed into the parts that we went into. The drive there was beautiful, with mountains all round, and a level plain inside them. There was a part of the garden where children were buried, with tiny children's windmills turning in the breeze. \we returned to the hotel and had tea, and saw the picture and article about Roy in their local paper. Then we caught the 4.08 pm train back to Tokyo, with a change back to the bullet train half way.

Monday 27th:
We packed for our return home in the morning. We went to a market, where we had a snack lunch, and managed to get a few presents to take home. There was a large incense container there at the entrance to a Shrine. In the evening we were invited to a special meal in a room in a restaurant where we met Yushi's two brothers and his son and a nephew, and some of the people who were with us on the tour.

Tuesday 28th:
Yoshi escorted us to Haneda airport in the morning, where we were lucky to be upgraded to business class back to London Heathrow, where we were met by my daughter Helen.

Sgt. Roy Welland 5337618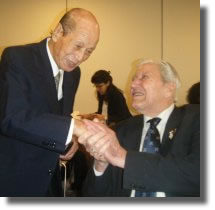 Sgt. Welland Receiving
A Warm Welcome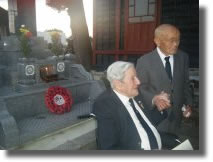 Sgt. Welland At One Of The Many
Shrines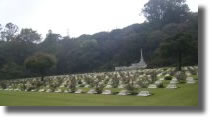 Hodogaya, Outside Tokyo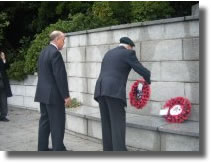 Sgt. Welland Laying Wreath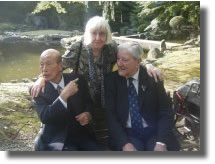 Sgt. Welland, Ruthe Smith
and Japanes Burma Veteran,
By The Lake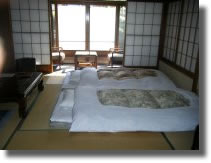 Accommodation