Return To Veterans Accounts Index
Letters Home
L/Cpl. Harold John Jones 5345470
08 February 1943:

My DEAR MOTHER
..Have just received letter from Marg and now find that my past letters hadnt reached you up up to time of Margories letter of 27.10.42. I do hope they do because I wrote 3 letters after hearing of terrible suspence it must have for you when Les was missing. Then I wrote a letter of Congrats when I Knew he was safe. Your letter of Leslies safe return certainly cheared me up as I was worried. 3 Airographs are now on the way.
..Do hope you and all are OK Mum, and hope to be home with you soon. Im quite well and touch wood havnt yet had any ailments.

..Ive written to Ron and his wife with congratulations on Son. My love and thoughts for you All.
........Writing Again Soon.

................................All My Love
........................................Yours Harold xxxxxx
21 November 1943:

Dear Mother
..Im trying to catch up on my writing now that we have a chance.
..By Xmas mother you should bet getting several letters from me & I do hope they find you feeling much better. I only wish I could be home for Xmas & enjoy a nice dinner & a good pudding.
..But I suppose you wont be able to get the things for making puddings now.
..Never mind we feel sure that we shall be at home in the new year & once again at peace & enjoying the good old fire side.
..Wont it be great mother Il bet I shall have a good old tale to tell you all.

2 Well Im keeping fine in spite of all that one indures out her. Yesterday I wrote to my Marg & she said that her new teeth were floating around like a battle ship. Ha didnt I laugh. No doubt she writes to you often.
..Hows life at home Mother no doubt pretty cold just now.
..Gwen & Dad O.K. also all at No. 3 & has Pat got her baby Brother or sister yet.
..Im just longing to see you all, no sail on my boat.
..By the way Mum did my suit case reach home from Bairys? & my grey suit O.K.
..Next summer holidays in that one.

3 Im anxious to know if Les did get married after he arrived home or has he posponed it for a whiles.
..Mother as soon as I get near a Town I will send you a parcel that will be at Xmas.
..Oh yes I remember you had an wining at the Lydlon Arms when Marg came down how did you enjoy it.
..Well mum soon I will write again. Always thinking of my Mother.
..........Take care of yourself
A Happy Xmas & I look forward to us coming home in 1944.
...............All my love to you & Dad & Gwen.
.........................youre loving son
........................................Harold
........................................xxxxxx
25 July 1944:
Dear Mother @ all.
..I hope these few lines find you all OK. Im keeping fine and now on leave up in the hills Wellington. Ive had some photos taken and collect them tomorrow. I hope you will like it.
..Well mother the war will soon be over & Im looking forward to coming home soon. I got some letters from Marg a few days ago, she is keeping OK and longing for the day when I come home. Are they building Henrys house again.
..Marg says they are now staying with you
..Hows Gwen getting on in the A.T.S. No doubt she will find different. I hear Les is now at Carlyle. I wrote to him when he was in Cornwall.
..Well Mum give my love to Dad. The lights will soon be on, and roll on my boat. Look after yourselves. Will write tomorrow and send a photo.
.............. With All my Love
..............................your Loving Son
..........................................HAROLD
............................xxxxxx
26 July 1944:

My Dear Mother & all
..I posted a letter yesterday, saying I am on leave up in the hills at Wellington, & now Im enclosing a small photo, no I hope you think it a nice one. Ive just sent one to Marg.
..Well mother how are you keeping, I do hope you feel much better these days.
..Marg told me all about the fire & that Henrys house had dissapeared which was pretty rotten.
..So I expect you have a Big family now.
..No doubt they are building it again.
What do you think of the war situation, I feel sure that Gerry is licked & that the lights will be on by Xmas & what a Blessing.
..I think it wont be long now before I shall be sailing home to good old Drivers End and beleave me it will be the happest day of my life. I would like to be able to write all my experiences & Trouble & Trials which one goes through but that will keep & take up a pleasant evening by the fire.
..However Mum Ive kept fine in spite of all.
..How is Ron & Les. I know where Les is I was wondering if Ron is still on Land.

2 Is Gwen getting on alright the Big lout. I know you think of us all, when you are sitting by the fire & No doubt you will say what a smart soldier when you notice Ive been promised? Ha Ha the Butler. Soon I shall be home Mum & I know you will be delighted to buy me drop of special. Remember you wont move me from the fire. What about one of your nice dinners. Look after yourselves Im fit & well & looking forward. Marg is fine Bless her, & dont agree Ive a right to be proud.
..Ive met quite a few fellows whom I knew in England. How Dad & his rabbit, pig, chicken, well his farm. Gess the home guard can relax soon.
..Well Mother Dad & all the Jones's keep smiling, all together soon.

....................Take Care of yourselves
........................................your Loving
.............................................Son
.................................................Harold
Love to Henry Beatrice
Pat & the other one.
...................................xxxxxx
24 October 1944 - Christmas Greatings:

Dear Mum & Dad

I hope these few lines finds you all OK, I'm fine & looking forward to coming home soon now. I wrote a letter a few days ago & do hope it reaches you soon.

Hope all goes well at Xmas I shall be home in 1945.

My love to all, keep smiling it's in the Bag.

......................All my love,
..................Your'e Loving Son
........................Harold
........................xxxxxx
Date Unknown:

...Apparantly Les was made very welcome at the local, so I missed some free English Beer wouldnt I like to be there now. Im sad I hardly know what Beer is like.
...Well I expect Marg has been down by now and told all news & of her meeting with a Mrs Unsworth her Husband is here with me & we thought it some comfort for them to know each other.
...Im fine Mother but just longing to be home with you & to be having a talk by the fire & the wireless again.
...Well it wont be long now mother when all your Boys will & showing you the way to eat Roast chicking.
...I think Marg worries a lot over me Bless her but Beleave me Im forever thinking... [Missing]

[Missing]... few lines my second in a week so I hope you will be pleased mother. Im making up for lost time now that we have settled down again for a while. Ive now this minute secured an Air Mail letter from Les which he wrote on 11th April when arrived home.
...He said you were down with the Flu & I hope you are OK again.
...News of Beatrice expecting a baby soon & of Les getting moved August or September makes me think that things will have altered a lot when I get home. Then Rons Baby. So mother as Les said in his letter. This all calls for a grand reunion & party when Im home... [Missing] ... & if I am able I will send them a message.

...My love to Gwen Dad & all at No 3 Kind Regards to Camfields & Toms Jan you Mother.
.........Keep a smile & Im thinking of you.
....................................Your own loving
..........................................Son
.............................................Harold
....................................xxxxxxxx
....................................xxxxxxxx
A Poignant Note:
Last Lines On Christmas Airograph - "Hope all goes well at Xmas I shall be home in 1945. My love to all, keep smiling it's in the Bag."

L/Cpl. Harold John Jones Died on the 30/01/1945 Just 3 Months and 6 Days after writing this letter.
Contributed by: Mrs. Debbie Healey, great-niece on behalf of L/Cpl. Jones nephew Ray Jones, who would like to hear from anyone who has further information on their loved one.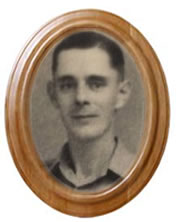 L/Cpl. Harold Jones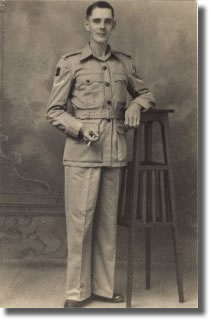 L/Cpl. Harold Jones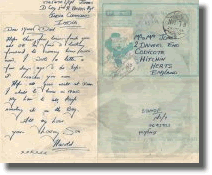 L/Cpl. Harold Jones
Letter Home