Return To Veterans Accounts Index
Match Of The Day
Extracts from an unpublished book
by
L/Cpl. William Joseph Lowe 14640525
.....Back to Toungoo and then on to Zeyawadi where we had dinner, a special do, with a local bank to entertain us. Here we started a little training and sport with a lot of knock-outs. Our Company 'B' doing very well, as we had some very good sportsman. Mostly, football, as we had 5 playing for Battalion. Next we accepted the challenge to put a team in the Brigade Knockout. I had the luck to be included in the 16 players to go, and played in one game as inside right, winning 2 to 0. Our fellows had some very good games with the Ghurkas. In one game 4/6 winning by the odd goal. I got bumped by my mates for giving the 4/6 a penalty from which they scored the winning goal.

.....On arriving back at our own Camp another Knockout competition was started with only employed men to take part. Once again we got into the final and Sgt. Major promised if we won we would get 10 days leave at Maymyo. It only took my pal XXXX XXXX ten minutes to score 2 goals and win us our leave.

.....To Maymyo we had to travel by rail to Mandalay and then by truck up the hills to the leave centre. Here we had surroundings similar to the ones at home. A lovely swimming pool and riding school, which we visited a few times, again we had another football match with the locals winning 4-0.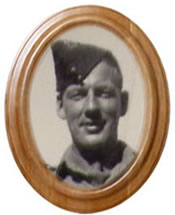 L/Cpl. William Joseph Lowe