Return To Veterans Accounts Index
Off To War
Extracts from an unpublished book
by
L/Cpl. William Joseph Lowe 14640525
.....There in a harbour lay a boat as our troop-train drew into the docks. We had orders to get out, collect all our kit and off we were marched to the gangplank of the troopship. Up we staggered with all our kit. A Movement Control Officer counting us off, just as the farmer does when he takes his sheep to market.

.....Once on the boat we were given a small card with our deck number, our's was 'G' just above sea level. Next came the blankets and life belts, next morning we were on our way, or so we thought, in the afternoon we pulled in again and to our surprise hundreds more of all Services were packed into our already over-crowded boat. At high tide we sailed out and joined our convoy and escort. That was the last I saw of Blighty for over three years, and a great many of them will never see it again.

.....We had the same routine that hundreds of other troopships had. Lifeboat drill, action stations, and fatigues almost every day.

.....In two weeks we lay just outside Gilbraltar waiting for nightfall to come so that we could slip through the Straights unseen by enemy agents on the Spanish Coast. In the Mediterranean we had submarine alarms and a number of action stations. On one occasion depth charges were dropped by our escort.

.....Just after passing Malta, our convoy split up. The Troop Officer made an announcement saying that the other part of the convoy were going to make a landing on the Italian coast, and we later heard over the wireless that it had been a great success.

.....We pulled into Port Said and took on water and to our amazement American soldiers started to come up the gangplank. They were given the Officers' quarters on 'A' and 'B' decks.

.....On we went down the Suez Canal, and as something of interest appeared on the other side of the Canal, the men moved from side to side, and the boat went over quite an angle at times, until the Captain found steering impossible and ordered the troops away.

.....At Aden we refuelled and off we set across the Indian Ocean without an escort but making better time. Long before this time we had discarded our warmer clothes and were now wearing our shorts and getting sunburnt. We had some real good concerts, but it was a bit of a job to see. As soon as the weather was warm enough we started to have P.T. (Physical Training) and games on 'A' deck, also boxing. I was unlucky; the instructors just put us in pairs, and said 'right get stuck in'. My partner certainly did, he pasted me all round the ring. I afterwards found out that he was an Amateur Area Finalist. I said never again after that pasting.

.....Early on the 24th March a shout went up 'land ahead' and then over the ship's wireless orders for disembarkation came. Our draft was nearly the last, and so on the following day we were all detailed for guard duties. Just after midday orders came that anyone not on duty could go ashore. So everyone got themselves ready whether they were on duty or not.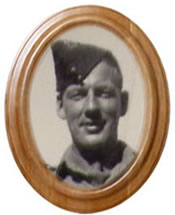 L/Cpl. William Joseph Lowe