C.S.M. Ernest William Fereday
Army Service No. 5334942
ERNEST WILLIAM FEREDAY
28TH MARCH 1916 - 24TH OCTOBER 1995
....I cannot in all honesty do justice in relaying the remarkable Army career of Ernest William Fereday contributed to the Veterans Website Project by his daughter Lynne on behalf of her sister and families. I have however removed all personal details due to the nature of the world we now live in. Please Note: Not all of the pictures from his album have been included as there are considerably more.

....Ernest William Fereday was actually born... but was probably better known as Ernie Fereday. His father was Gerald Ernest Fereday... Gerald joined the army at the outbreak of the First World War at the age of 16. He served in the ROYAL WELSH FUSILIERS throughout the war and received several medals 1914-1915 and 1914-1918 and Great War for Civilization 1914-1919. We believe he was demobbed in 1919. During the war Gerald got married... In 1921 Jesse caught influenza and died, she was only 24. Ernie, who was only 3 at the time, was then sent to live with Gerald's foster sister... in Huntingdon in East Anglia. Ernie joined the army in 1934 - THE ROYAL BERKSHIRE REGIMENT - it was his life. In this album there is recorded part of his and our history during the war, photographs of his friends and colleagues in the army, some who never came back. Quite a few of them are named, others, Ernie unfortunately could not remember. The story is now being told by Ernie's own words:

The first picture is of me when I had some leave and joined my foster parents at Bognor. I went down in uniform as such, scruffy looking herb there! Next photograph [LS02-2] is of three of us looking out of the Barrack room window, taken by the camp photographer. Looking at the photograph, a chap named O'Mara is on the right, who was a special mate of mine, Oshea in the centre and I am on the left with a bit of hair over my eyes. The photo on the far right I think is a chap called Barnes but not too sure. Bottom left is O'Mara again and the next photograph [LS02-5] is of a few troops in the same squad at the Depot there were 35 in all. My position is 2nd along of the 3rd rank, with hat tilted right to the rear, Scruffy!

Top left, [LS04-1] this shows the Battalion marching down to Hythe Camp with the drums and pipes, not the full band. I am in amongst them somewhere. We march to Hythe which was 3 or 4 miles, stayed in camp there and fired our annual course with rifles and if we qualified we could earn 3d (old money a day extra for a marksman. Fortunately I qualified so I had a bit more money. That was in 1935. The photographs on the top right and bottom left are the transport chaps, in those days there were no mechanical transport, just horses. Those men employed on transport were dressed like cavalrymen. They had the Bandoliers and breeches and special Lanyard, which was different dress to what we wore. The guy with the horse was Watts. The photograph bottom right [LS04-4] is similar to the one above but there in an ink arrow that was pointing to me. I expect you will wonder how I knew that was me but I had good eyesight in those days and I knew who was in front and who was in the rear. This photo I sent home.

Top left, [LS06-1] is the Depot of the Royal Berkshire Regiment, when I joined, called 'Brock Barracks'. I took that with a Kodak pocket camera. The bottom photograph [LS06-3] was taken two years before my time in 1932 when the 2nd Battalion moved into Camp. That lorry [LS06-2] behind the marching troops has no windscreen just tarpaulin stretched across the front and solid tyres. That was the old fashioned lorry for those days. The next photograph is another of the Depot. I often wondered who that chap was, wandering in the front.

These photographs [LS08-2 & 3] were all taken at Hythe Camp. Top left, these were good chaps there was one from the North and one from the South of Ireland. There is one who looks like Laurel of Laurel and Hardy fame; in fact he used to do that very trick that Laurel did when he was puzzled or upset. He would scratch his head and look just Laurel. He was always known as Laurel. The next photograph I remember just a few names, Richens, in the band, he was killed in France when war broke out, Dyer was next to him, the third one, we had a nickname for him, Creeping Jesus, a bit of a bible puncher. Then Drum Major Johnny Higgs, that was his name, then the Sergeant Major 'Plum' Warner, Why 'Plum' I don't know. I was the last, bottom left and Froggy the frog, he got the B.A. while he was in hospital. He studied Chinese Art and managed to get a B.A. out of it. The others, I can't remember their names. The bottom photograph is of a larger group and I am 3rd one along on the bottom row, next to the chap with a tea-bowl on his head. We used to have tea or soup in thse bowls. Then there is my mate O'Mara on his own.

The large photograph is of the Senior Ranks representing colour parties on a reunion at Shorncliffe Camp. We have got the 1st Battalion next. I cannot remember all their names. The first one I do not know, the next one was an officer who carried the colours, the next one to that was a very tall thin bloke, typical of the Army nicknames, he [LS08-2] 'Beefy' Martin. In fact he was the Sergeant in charge of my squad when training at the depot sometime before. They represented the 1st Battalion. [LS08-3 & 4] The next lot were the 4th Battalion, the other lot were known as the Hackney Ghurkhas. Affiliated to us. All these photographs were taken at Shorncliffe Camp near Folkestone. On the right of that is a chap in civilians, he was a regular but was allowed to wear civilians and he bought his own motorbike. A keen motorcyclist might notice that the bike has a hand gear change - there were not foot gear changes then. Below, this is the band and drums on parade. At the time, although I started on the side drums, I eventually went to tenor drum, a larger type where the drummer swings his sticks. In fact I am shown there on the extreme right.

Here we have the guard room and a couple of barrack rooms at Shorncliffe Camp. On the right we have an Old Martela Tower built during the Napoleonic Wars right on the cliff tops which was supposed to hold troops, ammunition, food and everything else in case Napoleon invaded this country.

On the bottom left is a group of us on the beach at Sandgate, not far from Folkestone. We used to go down there, I am 3rd from the left, looking dark and sullen, I do not know why! Far right there is me in the first civilian clothes I was allowed to wear in the Army. I look something like ~Al Capone~ I think, there! I got that suit made for me in a shop down in Folkestone. I looked very smart and I was very proud about it. That was taken at Shorncliffe.

A large photograph, Battalion H.Q. that is Headquarter Company which comprised of, in those days, band, drums and signals in fact all the specialists. I said specialists but they were at that particular time beginning to change over from horse transport to mechanised. Most of the horses at the time the photograph was taken were shot or sold. Some of these chaps, officers, NCOs and W.O.s took part in the First World War. If you look closely you will see that some of them served in India, North Frontier Service. Many of them had as many a 6 or 7 medals.
I must remind you that the First Battalion that had just returned from India and many of them, like me, in the bottom row and some in the top row were quite young soldiers. In fact they had 10 months service in comparison with many years of the others. In those days a chap joined the army for seven years and five. After six months training at the depot he was posted to the Home Battalion and then posted to India. He would probably spend the remainder of his service in India. When I said seven and five, I mean seven years for the regulars and five years for the reserves. When you finished seven years for regulars you came out and got a job in civvy street, married etc. but you were still classed as a Reserve. If war broke out, you would be called up immediately. This did happen later.

The big photograph [LS16-1] is what is known as a ~Colour Party~. Two sets of colours, showing battle honours won over the years, then regimental flags. You must remember that the First Battalion spent 21 years in India, which is a very long time, not each man but the Battalion itself. Coming home was a change to say the least. They organized a reunion between First Battalion (regulars) and the 4th Territorial Battalion and the Hackney Ghurkhas which was a London Battalion and they were affiliated to our Regiment. They were to represent each Battalion which arrived at Cheriton (Folkestone) station and they were met by the Band and Drums of the 1st Battalion which formed up outside the station where that photograph was taken. They then marched back with full ceremony to Shorncliffe camp. I was in the band at the time as a ~Tenor~ drummer; I seemed to spend more time swinging the sticks around my head than actually banging the drum!

The photograph top right is of a young boy bugler. He won a silver bugle for the best playing. He was taken seriously ill and died. A great shame!

In the centre is a photo of Bernard Baston, who I joined up with. He came from Standlake and came to live in Stanton Harcourt. I went to work with him - used to cycle to Pressed Steel (Leyland Cars) and thought nothing of it. We got cheesed off with being turned away because there was no work and told to go back in the afternoon. Of course we couldn't cycle all the way back home to Sutton and back to Oxford so we used to hang about in Oxford then cycle back to see but they would say 'Come back in the morning'. We got very fed up with that so we went down St. Aldates where the recruiting office was in those days and both of us joined the army.
That was a bit of a laugh really, when I look back on it because we walked down there and found this recruiting office, walked up the stairs rather gingerly and scared. I was 18 and my mate was 16. We were halfway up the stairs and there were all these posters on the wall saying things like ~join the army and see the world~ and all that claptrap, when this booming voice bellowed out ~What do you want? ~ and I said ~we have come to join the Army sir~. ~Come on up then~ he said and up we went.
There was a Sergeant Major or I think that's what he was anyway, a Recruiting Sergeant and an Officer. We were given a physical check up and an intelligence test, reading, writing and arithmetic. They accepted my mate straight away, he was very much bigger than me - he looked the age he said he was. He got the Kings Shilling~and was posted to Reading, but not me, I had to bring my birth certificate in to prove I was 18. I was under height, underweight and chest measurement, under everything, but being reasonably intelligent in those days and being short of men they thought training would build me up a bit. The photo in the bottom corner - the group of 4, I can only remember one name - Drummer Childs. He became Drum Major later on, very smart chap. He joined the service many years before I did. There is one thing I would like to point out, ~putties~ they are about 1½ yards (just over a metre) of kaki cloth that we had to wrap around our legs from the ankles up to the knee and they had to be a certain distance apart and finish at the seam of the trousers. We got quite used to doing it that we could put them on quite quickly. No trouble at all!
P 1 :: P 2 :: P 3 :: P 4 :: P 5 :: P 6 :: P 7 :: P 8 :: P 9 :: P 10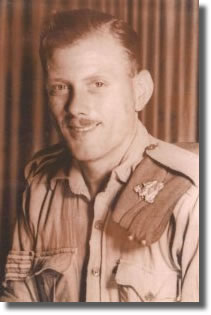 C.S.M. Ernest Fereday

2nd Bn. Royal Bershire Regt.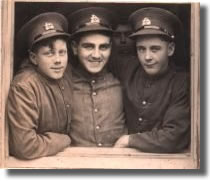 LS02-2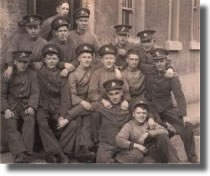 LS02-5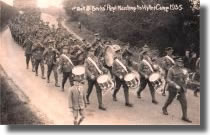 LS04-1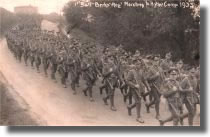 LS04-4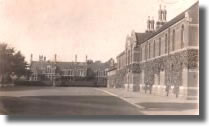 LS06-1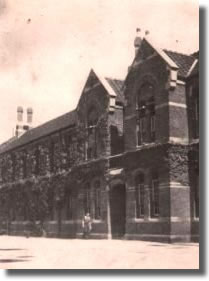 LS06-3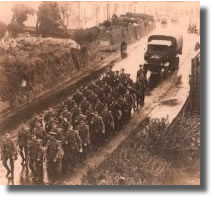 LS06-2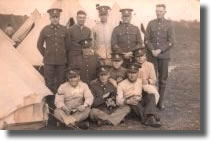 LS08-2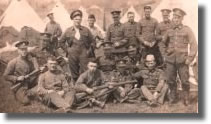 LS08-3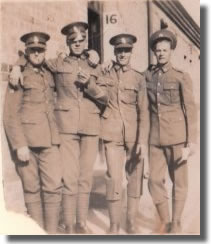 LS16-4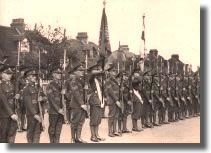 LS16-1