Return To Veterans Accounts Index
Muddy Waters
Written and donated by The Sphinx And Dragon
Regimental Journal
Page 3
.....With so few men and with so many commitments, upset routines had happened before and would happen again. This new mission was important. Ken was one of the best men we had. This was a patrol he, himself would lead. 'Sorry Wells but I've got to have you, we're going back to the area of your last patrol, I'll give you a break later.'
.....Ken replied with a cheerful 'yessir' as he gave his pullthrough a savage lug up the barrel of his rifle. 'I'll come over sir. Could someone dig my trench before we get back?' His sergeant looked at Ken and Ken at his sergeant. Seeing a battle of wills his officer broke in...'You won't need to dig tonight we'll be moving off in the morning.' Ken breathed again.
.....Joining Lt Whittingham-Jones half an hour later Ken found Jimmy Seaby was the other member of the three-man reconnaissance patrol. Their orders made it clear that they were needed to go that night deep into the enemy's position. A close brush with the Japanese by night was in prospect.
.....Behind them they would leave the 'safety' of this position opposite the main Japanese dug-in defences. Only that day 'Cushy' Hudson of another platoon had been hit in the backside while digging his trench. He had been evacuated with considerable difficulty after being lifted onto a mule face downwards to make the rough, dangerous journey to the pick-up point, where he had been loaded onto a Jeep. Shelling continued spasmodically. Ken and his patrol might even be in less danger on their patrol away from the attention of the Jap artillery. Some hope, he thought.
.....Ahead of them, desultory exchanges of gun, machine gun and rifle fire continued as their patrol commander gave them their orders: 'The position ahead is a Japanese beachhead on the west bank of the Irrawaddy occupied by two battalions of the enemy. We are to move one and a half miles into the position crawling through their outposts to report how many vehiclesand what type are in the position and to see if any tanks or armoured cars arc there. The river will be on cur right.
P 1 :: P 2 :: P 3 :: P 4 :: P 5 :: P 6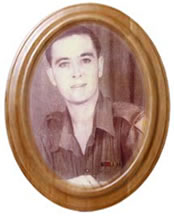 Pte. Kenneth James Wells