List of known troop ships in the Burma theatre. Should you have any knowledge of any other vessel which transported veteran Berkshiremen to and from the Burma theatre please contribute.
---
M.S. Dilwara:
Built in 1936 seeing service as a troopship in WWII. Her troop service requirements ended in 1960, when she was bought by the China Navigation Company who renamed her 'Kuala Lumpur'.
S.S. Ethiopia:
Calcutta to Rangoon on two weeks leave Leave.
Empire Bride(?):
The name of this ship I believe, is called the Empire Pride, and would love to hear from any Berkshiremen or family member, who can confirm this.
P&O Strathnaver:
Requisitioned as a troopship. This ship spent part of her wartime service as an LSI(L) for amphibious operations, but mainly trooping's. Leaving Bombay in April 1945 with an approximately 4,000 troops on board, heading for Britain. Arriving at Port Said on 'VE' Day. She was also known to have taken troops from Bombay to Southampton.
P&O Stratheaden:
Built in 1937 P & O line, 1939 to 1945 requisitioned and converted into a troopship. Equipped to accommodate, approximately 3000 troops. Liverpool to Burma.
S.S. Orantes:
Sgt. Walter William Pratt embarked for India aboard this vessal.
The Orantes was launched in 1929, was a passenger liner of 20,000 tons and she remained in service until 1962.

China Dragon Cap Badge


Royal Berkshire Regiment
(Princess Charlotte of Wales's)
1939 - 1959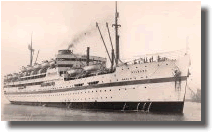 M.S. Dilwara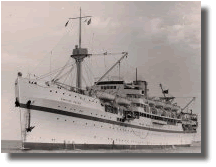 Empire Pride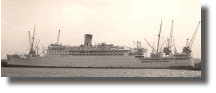 P&O Strathnaver