Every Burma veteran has a unique perspective of their own wartime experiences, and each are the custodian of a story that needs to be told.
---
L/Cpl. William Joseph Lowe 14640525:

Extracts from his recorded interview.

Joined A Bloody Shower.
Short For A Patrol.
Silly Bugger.
Dysentery While Marching.
Written and donated by The Sphinx And Dragon Regimental Journal:

The Burma War 54 years on.
Independent, The (London), Aug 22, 2005 by Terri Judd:

VJ veterans pay tribute to fallen.
Pte. Albert Ronald Williams 5338119:

Fags in short supply.
Sgt. Bertram King 14254119:

Cooking For The Royal Berk's Wasn't Always Fun!
The First Ration Packs.
The Ration Scale per Man 1943 S.E.A.C 19th Indian Div.
Sgt. Joseph George Iles 5345643:

Postcard home.

Donated by Christine, the daughter of Sgt. George Iles.
Pte. Charles Frederick Dickens 5342491:

Letter home.

Donated by Nephew, Mr Philip Jackman.
Cpl. Norman Champ 14825356:

News paper cuttings:

When the Japanese Generals Surrendered.

Saw The Japs Surrender.

Donated by his daughter Teresa Kinsella.
Please Note:
Some of the veteran's names have been substituted like so, 'xxxx'. This I have done until such times as permission is granted to include them. Should you however recognise any details relating to a relative or subject, please do not hesitate in contacting me. Thank you.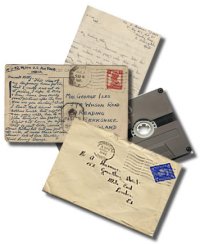 Veterans accounts are discovered
in the most unlikeliest of places.

Please cherish them!